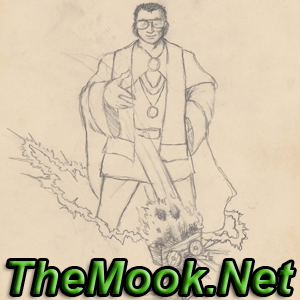 Happy last GURPSDay of 2016, folks!
It's been a crazy year, and a busy year. I tried a lot of different kinds of posts here at Game Geekery since the last review, and there's been a lot of GURPS goings-on, so today I'm looking back over the highlights from 2016. Hopefully you'll find some gems in all these links and look-backs that you missed the first time around.
My Personal Gaming | How to Be a GURPS GM | Game Geekery | The Year in GURPS |
Goals for 2017 | Reader Poll
---
My Personal Gaming
To start with the biggest negative, my home gaming was virtually non-existent this year. I put the group I was GMing for (modern day supernatural hunters in L.A.) on hiatus in 2015 and, so far, we haven't started up again. On the other hand, my one-shot convention games remained really strong in 2016. I ran all three adventures multiple times at their respective cons and the tables always had a blast:
Orccon 2016
Locus: A Needle in Infinite Haystacks (multi-dimensional search and rescue for a lost human)
Gamex 2016
Beware the Boogeyman (toys must rescue their children's parents from the Boogeyman)
Gateway 2016
Hell on Wheels (a motorcycle gang clashes with a family of werewolves)
I have every intention of again attending and GMing at all three local Strategicons in 2017, so hopefully I can keep this streak going!
---
How to Be a GURPS GM
Reaction to "How to Be a GURPS GM" this year continued to be more positive than I could have ever hoped, and I received quite a few very humbling messages from readers. Perhaps my favorite was this one:
"The game I'm running is with my family. My wife and three children (ages 6-9). When I wake up on Saturday, first question from the kids is 'Can we play GURPS today?' And your book is the only reason it's happening."
The thought of a gamer out there reading my book and becoming enthused enough to start up a GURPS game for his family is, literally, the kind of thing that keeps me posting! Truly awesome.
I was also very pleasantly surprised when Steve Jackson Games announced that HTBAGG was to be included in hardcopy as part of their recent "Dungeon Fantasy Game" Kickstarter. That, coupled with a near-historic massive sale on PDFs, led to a nice bump in sales back to levels not seen since a month or two after release!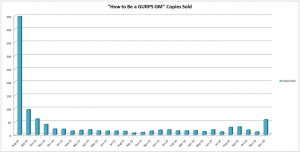 I am really, really hoping that there will eventually be some way to purchase hardcopy versions individually — I know many gamers (and non-gaming friends and family) who still don't register a PDF as a "book," and I would love to be able to gift them physical copies.
---
Game Geekery
As for Game Geekery itself, these were the most popular 2016 posts actually written in 2016:
Printing RPG PDFs to Hardcopy Books
GURPS Shotguns – This is My Boomstick
And these are the most popular in 2016 but written elsewhen:
My GURPS GM Screen (Nov. 2015)
GURPS Quick-Start Character Creation (Oct. 2014)
My GM Kit (February 2015)
Series: New to GURPS (2015)
Streamlining Combat With Tokens (Oct. 2013)
Every one of those posts (with the exception of "Printing RPG PDFs…", and its broad appeal well outside of GURPS) is in some way trying to demystify the GURPS rules and/or boil them down to their simplest core without all the layered options that newcomers all too often mistake for "too complicated" or "too much math." Since my primary aim with Game Geekery has always been to help gamers see that GURPS is not even remotely as complicated or difficult to learn as the persistent rumors might suggest, this tells me that I've hit the mark pretty solidly in terms of readership and demographics.
There were also a number of posts not in the top 10 that either tried something new or continued to build on existing series:
The Bunnies' Tale
A second Quick-Play Adventure, wherein the PC rabbits must find their back to their home warren.
Gina Marie's Gun Emporium
The first in a new series called Tidbits, providing individual settings/items/characters to be dropped into ongoing campaigns.
The Bunny Story and The Briefcase Story
Getting away from rules-specific posts, these two posts gave me a chance to share some amusing anecdotes from my gaming past.
[Audio] Answering Reader Questions 01
My first-ever audio post, sort of a 15-minute mini-podcast. Response to this one was particularly high, and a second one is already in the works.
GURPS Quiz
Another first, this time a quiz testing general knowledge of GURPS in honor of its 30th anniversary.
Modern Agents and Modern Fireteam
Two more entries in the Quick-Start Characters series, outlining a four-man crew of agents and soldiers, respectively.
Exclusive Dungeon Fantasy RPG Spell!
In yet another first, Steve Jackson Games asked me to host a teaser peek of one of the new spells from their upcoming Dungeon Fantasy RPG (which I am eagerly anticipating!)
Lots of promising stuff in there, things I hope to continue building on in the coming year.
---
The Year in GURPS
2016 saw a lot of GURPS activity, both official and fan-based, especially in the second half of the year. I've already mentioned most of these individually, but in summary:
Steve Jackson Games showed a LOT of GURPS love in 2016. Any one of the below would have made me happy; two, ecstatic. All five together fills me with hope and squee, as it shows that they are really, really interested in keeping GURPS alive and growing if at all possible. They will absolutely be looking at all this data — who buys what, what sells and what doesn't, etc. — to determine how to proceed with the line. Personally, I'm hoping to see a GURPS renaissance in 2017!
The GURPSDay community of bloggers continues to roll along powerfully, birthing massive heaps of GURPS goodness every single Thursday. There are so many now that I can't keep up, and they cover a wide variety of topics, play styles, and writing styles. A huge success.
The GURPS Discord Server has grown very quickly in a very short time, and is already a staple of my daily routine. We are creeping up on 300 members, with a daily average of 80+ logged in at any given time, people real-time chatting about their games, answering questions, organizing online play, and discussing all the myriad things gamers love to discuss. Check the home page for more info, or just hop on in!
Finally, one of my favorite online resources, the GURPS Calculator, continues to make great strides in providing super useful tools for GMs and players to enhance their games. Gets two thumbs way, way up from me!
---
Goals for 2017
In addition to (probably too many) personal goals for the new year, I also have a number of gaming-specific ones:
Restart my face-to-face gaming group. It's been way too long, and there's something unsettling in writing so much about gaming when I'm not actually gaming regularly. Theorycrafting is fine, but I need more hands-on as well (plus… I just miss it, and my players).
Continue running convention games. These games are my only GMing avenue currently, but more importantly, I always have a great time and meet fun new gamers. I've morphed from an exclusively home group GM to a convention GM… and I like it!
Run at least a one-shot online. In addition to an ongoing campaign and convention one-shots, I also want to expand into GMing online (most likely with Roll20.net, or possibly Fantasy Grounds). There's just too much potential there that I'm not taking advantage of.
Write more! I need to get in the habit of writing fiction more frequently, but gaming-wise this also includes putting more energy into Game Geekery– trying new things, posting more frequently, fixing up the site itself, etc. I blog because I love to write, and I love GURPS, so writing about GURPS is just fun to me… it isn't about "the numbers." However, I would still like to reach new readers in 2017. The Patreon campaign has maintained steadily since it began, but not reaching new goals makes it harder to stay motivated, and overall readership of the blog hasn't grown much either. More readers = more feedback = more writing!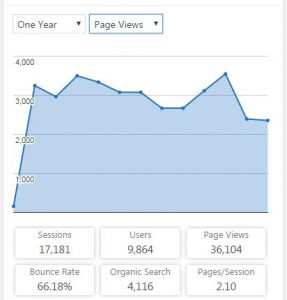 ---
Reader Poll
In a nutshell, 2016 was a pretty great year for Game Geekery, and 2017 looks to be even better.
To help me continue improving the site and decide on which posts to concentrate on, I have a quick poll below if you have a moment. Otherwise, thanks for reading, thanks for all the support in 2016, and I hope to see you back in the new year!

Loading ...
If you enjoyed this post and others like it, might you consider the Game Geekery Patreon?