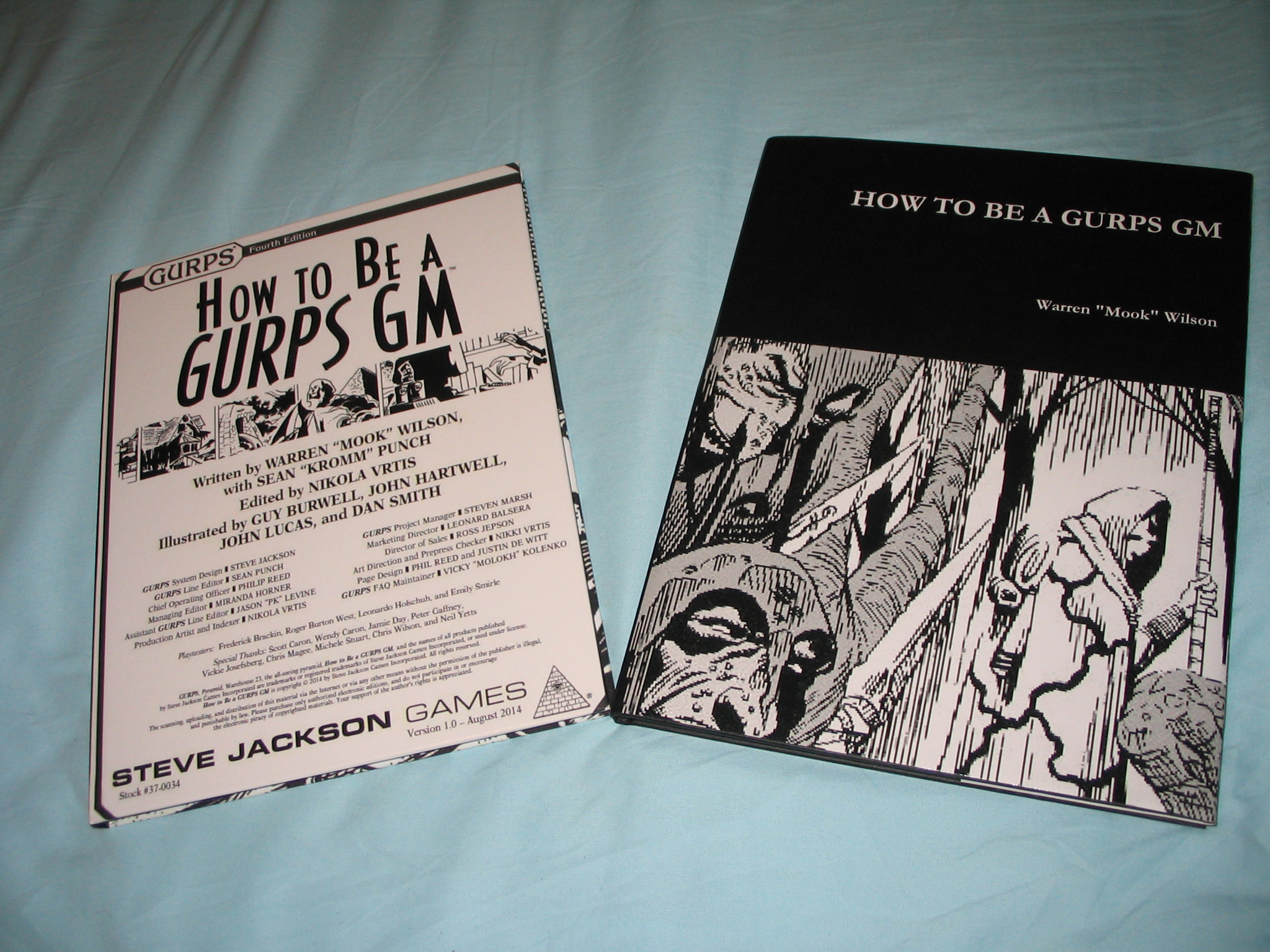 GURPSDay has again descended upon us!
I've written about printing out RPG PDFs a couple of times before, so instead of just making a third post for this latest project, I'm pulling them all together into a single uber-post.
A few caveats:
I am not a lawyer, and this is not legal advice. I'm simply sharing what has worked for me using Lulu.com.
The most critical thing to remember is that you must set your Lulu project to Private Access! This prevents it from being listed for sale to others besides yourself or showing up in search results — only you will be able to order a book copy of the PDF.
These are all black and white printings. Color usually costs a lot more.
The costs given don't include the costs for the PDF itself, just the printing/binding.
I've only printed PDF products from Steve Jackson Games (GURPS) and Evil Hat Productions (Fate), and both of those companies give explicit permission to print out a single copy for personal use of the products I printed.

Steve Jackson Games: "Q: Can I have a copy shop print up a copy of a file I bought? A: Yes, you can have one copy printed for personal use, whether at home or through a copy shop. If the copy shop needs proof that you have permission, you can point them at this page, or write us at orders@warehouse23.com for official permission."
Evil Hat Productions: On their Fate products' copyright pages, after the usual "All rights reserved…" boilerplate about not making a copy, is "That said, if you're doing it for personal use, knock yourself out. That's not only allowed, we encourage you to do it."
 If you're looking to print something else, it will depend on the publisher.
So, these are the projects I've done so far.
---
GURPS Omnibus, v. 1.0
Project: GURPS "Characters" and "Campaigns" combined into a single softcover volume
Service: FedEx/Kinko's Online
Price: $64.71 ($48.49 for printing/binding, $3.93 for tax, $12.29 for shipping)
This was my first-ever print job, in March of 2009. I would describe it as "Ugly, but functional" (and a bit too expensive). It was comb-bound and plain, but served me well for about four years until I lost it in a move.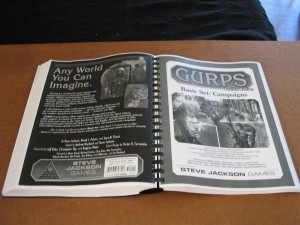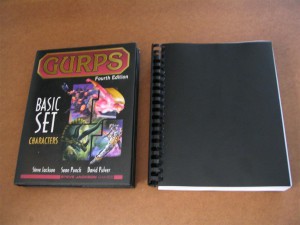 ---
GURPS Omnibus, v. 2.0
Project: GURPS "Characters" and "Campaigns" combined into a single hardcover volume
Service: Lulu.com
Price: $45 ($35 for printing/binding, $10 for shipping)
Though losing my first Omnibus initially bummed me out, the silver lining was that for my second attempt I gave Lulu a try, and not only was the quality worlds ahead of version 1.0, it was like 20 bucks cheaper! This one I did in 2013… amazing the difference four years can make. I believe my Lulu options were set to "8.25" x 10.75″, casewrap-hardcover binding, white interior paper (50# weight), black and white interior ink, white exterior paper (100# weight), full-color exterior ink."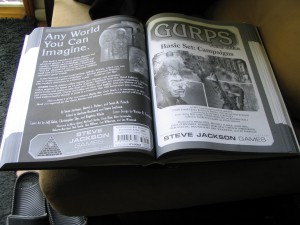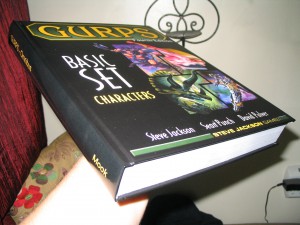 Barely worth mentioning, there is a very slight "sliver" of white at the top of some of the pages (that would normally have a grayscale border right to the page edge), but it's barely noticeable.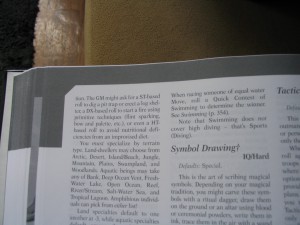 This is the rulebook I currently tote around with me, and it has held up extremely well after three years.
---
Fate Omnibus
Project: Fate Core, Fate System Toolkit, and Fate Accelerated combined into a single volume
Service: Lulu.com
Price: $21.16 ($12.16 for printing/binding, $9 for shipping)
For my third printing project in 2014, I switched gears to Fate instead of GURPS. It was even cheaper because the page count is less than the above, and it is a softcover and digest-sized book. Still looks and feels great, and shows no signs of wear and tear.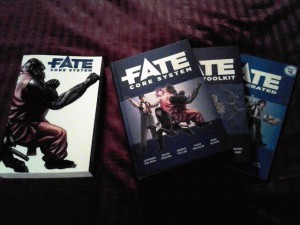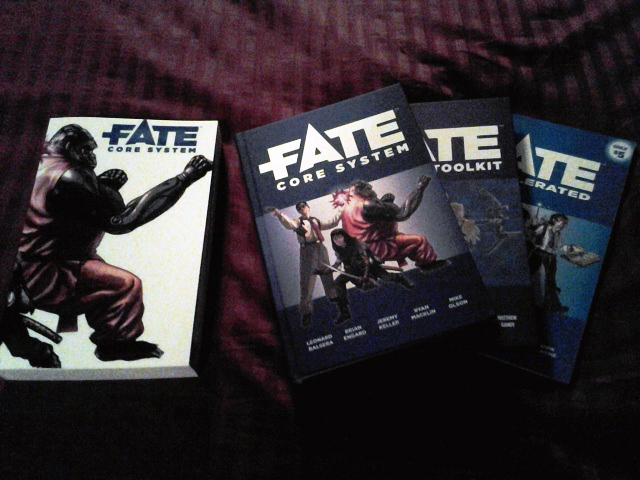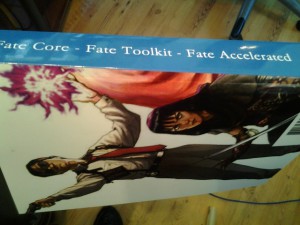 ---
How to Be a GURPS GM
Project: "How to Be a GURPS GM" as a hardcover (two different versions)
Service: Lulu.com
Price: $22.83 ($12.83 for printing/binding, $10 for shipping — this is for the basic, non-dust cover version)
Naturally, when Steve Jackson Games published my PDF for "How to Be a GURPS GM" in 2014, I wanted a hardcopy for myself! The one I put together is a basic version, shown on the left. A friend of mine bought the PDF and she wanted her own hardcopy — she did a much nicer job on hers (and opted for the dust cover jacket), and I'm totally jealous. It looks great.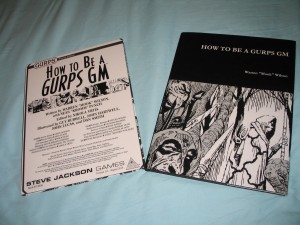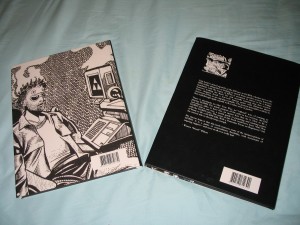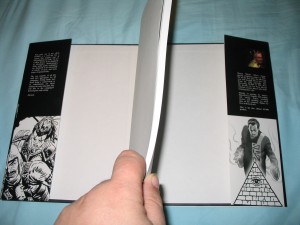 I like how those pictures show two very different versions of the exact same content, which is one of the advantages of Lulu… you can design your printed book to look the way you want it to. I'll be much happier when/if Steve Jackson Games offers their own POD service for PDFs, but until then, Lulu seems like a pretty great third-party solution.
I'd love to see any game PDFs you've had printed and bound, or hear about your experiences with Lulu and others. Any good ones out there?
Update: Be sure to check out the links in the comments below for even more great pics!
Update 2: Some fantastic pics here of a GURPS Dungeon Fantasy hardcover that "contains all 15 DF books, plus DF Monsters, DF Adventure 1, the two DF Pyramid magazines and a handful of DF Articles, coming in a bit over 700 pages" (forum post – thanks, Eric!).
Update 3: Excellent blog post here from Zadmar with step-by-step instructions on printing through Lulu.
If you enjoyed this post and others like it, might you consider the Game Geekery Patreon?