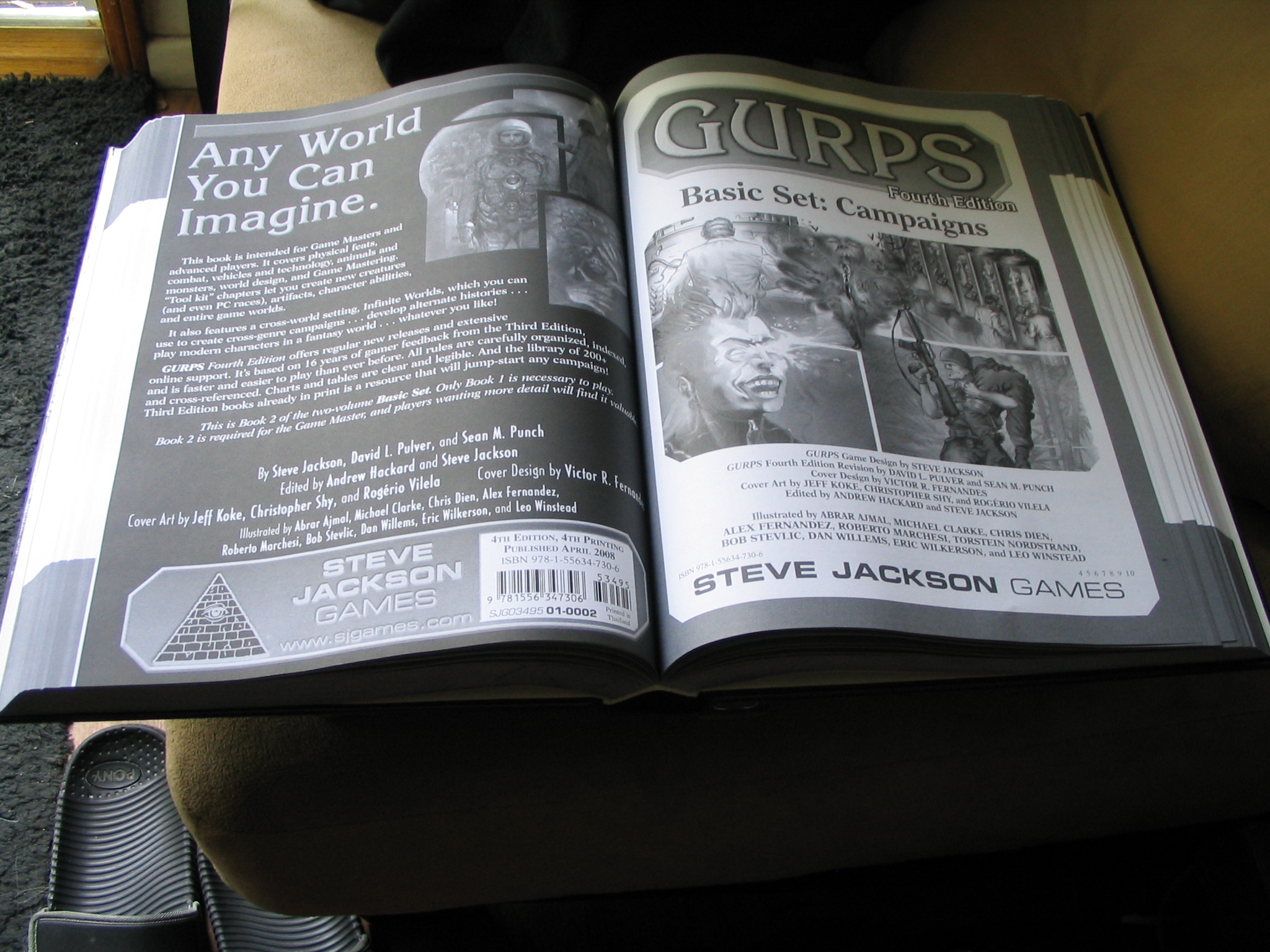 A few years back, I used Kinko's/FedEx to combine my GURPS Characters and GURPS Campaigns into a single volume. It looked like this: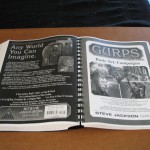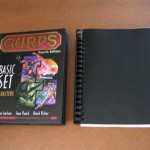 It served me well through many a GURPS campaign, but I misplaced it earlier this year. So this time around I decided to give Lulu a chance, and I love the results.
For about $45 ($35 for the book, $10 for shipping), I got: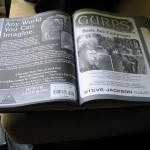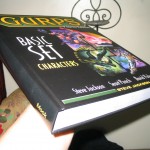 The binding is solid, hasn't cracked in the first few go-rounds, and absolutely won't lose a page. The book itself is light — it feels lighter to my hand than holding the two single volumes (with their deliciously slick, full-color pages).
Which leads to the first of only two downsides: the pages are black and white, so you lose the utility of the color-coded bottom margins. This doesn't bother me at all, I generally know what I'm looking for, but I thought it worth noting. You can, of course, go with color printing, but I don't imagine the price would be economical.
The only other ding is that there is a very slight misalignment across the tops of some pages, so that the border is a sliver of white instead of being fully flush with the colored/gray-scale border, like so: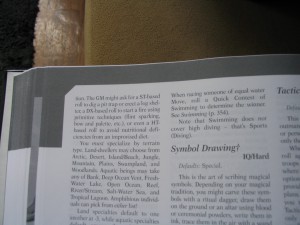 Believe me when I say, this is the sort of thing that would normally drive me berserk. But for some reason, maybe because it is so slight, I only notice it when I want to. Worth mentioning, though, because it doesn't appear in my PDFs, and it only occurs in a few random sections of pages, so it's got to be something on their end.
The only thing I wish I had done differently is the back cover. I have the Characters front cover on the front, and the Campaigns back cover on the back (the way it would look if you physically had the two books atop one another). But now I think I would prefer to have the Campaigns front cover on the back, despite that "feeling" backward.
I think it was a great purchase, overall Lulu did a wonderful job, and I'm already pondering what I can save my pennies for as the next experiment. 800 pages is the Lulu limit for the "8.5 x 11"-ish book size, I believe, so…let's see, I think you could squeeze all 15 of the Dungeon Fantasy series + Monsters + the Fire Demon adventure into a single volume! Or maybe Low Tech + the three Companions + Instant Armor + Fantasy-Tech 1 in "Tech: Volume 1," and High-Tech, Ultra-Tech, and Bio-Tech in "Tech: Volume 2." Ooh, I like that.
Cost is an obvious fly in the ointment — any one of the three books above would cost in the three figures for all the PDFs plus the Print on Demand. But if I really wanted to, I could completely reassemble my GURPS library into whatever I choose.
Which rocks pretty hard.