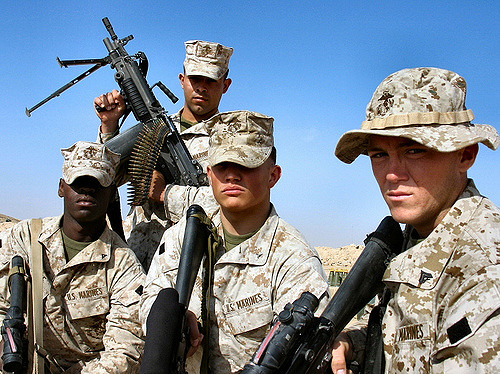 The weekly GURPSDay bonanza is upon us. When you're done reading here, I hope you'll sally forth and devour as many of the 40+ other GURPS blogs posting today as your eyeballs can handle. Enjoy the bounty!
Today I'm moving from last week's city streets and onto the battlefield with a four-person fireteam of modern soldiers created with the Quick-Start rules: the Team Leader, the Sniper, the Grenadier, and the Automatic Rifleman (a fireteam wouldn't necessarily have a sniper, but game-wise they can be a lot of fun). They are again built as "Heroic" level characters (very roughly around 200 points), and should be useful as PCs and/or enemies. Note that the differences between them are less sweeping than with other Quick-Start characters… their main variations are in gear and training.
I did "cheat" a little bit… in addition to the usual six skills from Heroic Quick-Start creation (one wildcard at ATT-1, two skills at ATT+2, and three skills at ATT+1), I also gave them each a kind of 'mini-template' to represent their military training ("Infantry Soldier!" wildcard skill at IQ-2, First Aid at IQ, and and Guns (Pistol), Karate, Knife, and Throwing all at DX-1). They also don't have the Luck advantage, which I give almost all PCs, so they're a bit less cinematic. If you want them to be more "Schwarzenegger action hero," they should have at least one level of Luck.
For much, much more detailed characters in a similar vein, check out this six-man squad from the Operation Needle one-shot — those are some 375-point beasts! Naturally, those characters are a few orders of magnitude more complex. I mean, they each have ~75 skills, not 6-10! But these characters are simple, quick, and can be easily modified and expanded as the players/GM choose.
Again, if these soldiers end up in your game, I'd love to hear how they ran, or if you have any suggestions, problems, etc. Now, lock and load people — get out there and cause some mayhem!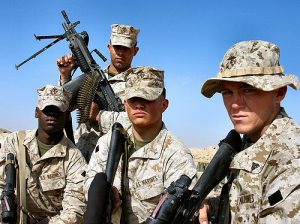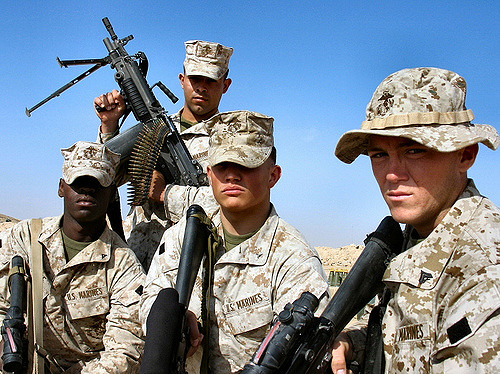 If you enjoyed this post and others like it, might you consider the Game Geekery Patreon?