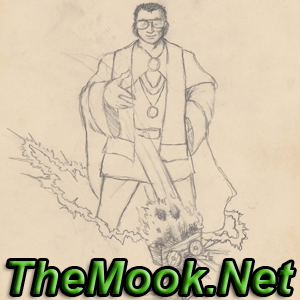 Happy 2020 (nearly)! Like previous years (2018, 2017, 2016, 2015), I'm taking a look back at the year in Mook, Game Geekery, and GURPS/Steve Jackson Games as 2019 draws to a close.
---
Game Geekery
First, some numbers. These were the most popular posts written in 2019:
The top three of those five posts provide ready-to-use GURPS characters or sheets, so that's something people clearly find useful. (The fourth outlines an upcoming project for using GURPS for one-shots, and the fifth is a rumination on playing some D&D for the first time in many, many years).
Regardless of year, these are my most popular posts since the blog began (as Game Geekery):
Only the order has changed since 2017, with "My GM Kit" dropping from #3 to #5.
Patreon
The Patreon continued to be in rough shape in 2019, much to my frustration and embarrassment. Updating and putting more energy into Game Geekery in general, and the Patreon specifically, is at the top of 2020's priorities.
GURPS Discord (unofficial)
The unofficial GURPS Discord remained a bright point for this year! We continue to slowly grow the community, there's always GURPS (and other) discussions going on about this and that, gamers and GMs get together for games — it's just a great daily hub for gettin' GURPS-y, and I'm very thankful that so many others have come together to share and help us all have a little more fun.
The server is here, swing on by!
---
The Year in GURPS (and SJG)
Steve Jackson Games continued to publish a great mix of new and reprinted GURPS material this year, with three particular stand-outs that match my current streamlined GMing style perfectly:
The Dungeon Fantasy RPG (Powered by GURPS) continued rolling along as well, supplemented by excellent licensed products from Gaming Ballistic. It's great to see licensed third-party GURPS material, especially when it's this well done.
In addition to GURPS, the year was also strong for The Fantasy Trip, and even Car Wars is making a comeback with a current Kickstarter (still a few days to back it!)
---
My Personal Gaming
It was a tough year outside of gaming, and as a consequence things inside of gaming took a nosedive as well. The two face-to-face groups I was part of — one, DMing a D&D 5E game, the other playing a variety of systems — both ended. I didn't run any of my usual Halloween one-shots. The game I've been looking forward to GMing for a co-worker has had to be postponed numerous times (over a year at this point). Apart from actually playing, most of my creative and online writing has also fallen off due to all of the above-mentioned, hitting my Patrons and blog-readers the most.
I did manage to make it to two of the three local Strategicon conventions in 2019. At Gamex, I GMed a "Starship Troopers" game that was a lot of fun, but I made some poor choices during prep that kept it from being really great. Lessons learned.
The game I ran at Gateway, however, really clicked. It was set in my pan-dimensional city of Locus, and for the first time we created PCs at the table instead of using pre-gens (with yet another streamlined version of GURPS character creation). The PCs were great fun, the adventure ran differently for all three groups — everyone just had a blast, and the relatively simple version of GURPS I used fit perfectly, to the extent that it's inspired me to continue exploring ever-simpler iterations of GURPS in some upcoming projects.
I also spent a bit of time fiddling around with the two Virtual Tabletops I use, Fantasy Grounds and Roll20, with an eye towards GMing more games online, but more on that a bit below.
It was a very "dry" year, game-wise, apart from those few oases, and at a time when I could've really used distraction.
---
Last Year's Goals for 2019
Predictably, all of the above had a huge impact on (not) reaching the goals I had outlined for 2019, for a final tally of two goals reached out of six.
Make 30 Posts to Game Geekery.

Failed.


Barely made it halfway to the goal in 2019, only posting on average once a month.
Continue GMing Convention Games and One-Shots (face to face).

Success!


The specific goal was "At least two for the year, hopefully many more," so I squeaked in by making it to two conventions.
Do More Online Gaming.

Failed.


In 2019, I did… none. But the desire to branch out online remains strong, and this is definitely an area I want to explore more.
Create and Post Another Quick-Play Adventure.

Failed.


I had a few ideas on this front, but nothing that ever made it to execution. As an aside, though, you should absolutely check out this site for some GURPS one-shots. The design and format of them alone are fantastic!
GM at Least One Fate Game.

Failed.


I didn't GM any Fate in 2019, but I'm considering this a "partial failure." Just a month or two into last year I realized I didn't really want to start GMing Fate, so I simply wasn't pursuing this goal for most of the year.
Locus.

Success!


Surprisingly, I actually made this one! I did a bit more work on the setting itself, both in content and mental noodling, and also ran three convention groups through a one-shot set in Locus to great success. The only front that didn't see any progress was the fiction I set there.
---
Thoughts and Goals for 2020
Do More Online Gaming. (One-Shots)
This is my number one priority for the new year! For a variety of reasons: the constant, inexorable change of gaming groups and friends; the convenience of having Virtual Tabletops automate so many game mechanics; expanding the Patreon and Discord communities; the ease of finding players for one-shots; the now-unaffordable expense of weekend (physical) conventions;  on and on. Basically, everything seems to be pulling me away from face-to-face games and towards online games, so instead of fighting it I'm embracing it. In addition to actually getting some one-shots together, this would also mean more streamlined GURPS docs and getting Fantasy Grounds and/or Roll20 fully set up for GURPSing.
Locus.
I need to continue work on Locus, both as a playable game setting and as a place to set fiction.
Make 24 Posts to Game Geekery.
Cutting this goal back a smidge, from 30 to 24. I'd like to get back to a weekly schedule, but twice a month seems a good start. The most popular posts make it clear that folks find the ready-to-use and pick-up gaming materials the most helpful. I may also need to lean a bit more into the 'Geekery' — TV, movies, books, video games, etc. — if GURPS topics are in short supply.
Update Game Geekery/TheMook.Net.
Over the years, the website has become somewhat disheveled from all the content, so I'd like to give it a facelift at some point to make navigation and finding things easier.
I've cut a few of last year's goals:
Create and Post Another Quick-Play Adventure.
I love doing these, and people comment on them a lot, so I'd like to squeeze in at least one new one this year. However, I'm not adding it as an actual goal until I have a better idea of how the online gaming is going to shape up.
Continue GMing Convention Games and One-Shots (face to face).
In the last couple years, spending over $1,000 a year on weekend conventions has gone from "covered by leisure funds" to "simply can't afford it," so at least for the time being I'll be GMing fewer physical games and more online.
GM at Least One Fate Game.
Though I still enjoy playing Fate when others run it, for my own projects I'm refocusing on GURPS so I doubt I'll find the time to GM a Fate game.
I hope you'll continue enjoying my GURPS sheets and handouts, pre-made one-shots, pre-gen characters and more in the coming year. Thank you so much for sticking around through such a challenging year. Here's to 2020 being full of fun, friends, and GURPS!