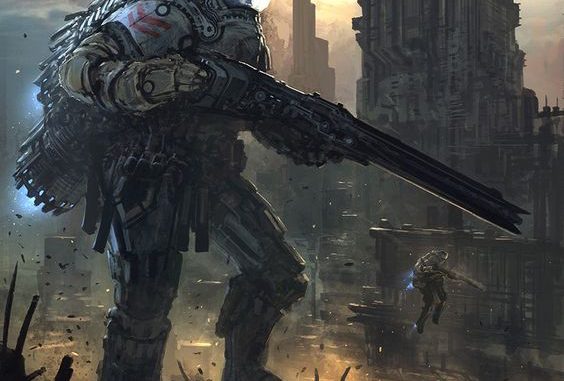 Howdy Folks!
Today I'm sharing the PCs for the Heinlein-inspired game I had intended to run at Orccon 2019, "The Only Good Bug…"
Starship Troopers PCs | Downloads: 794 | Size: 810.1 KB
I plan to offer this game again at Gamex 2019, coming up in May, so these characters may get tweaked a bit, and there is no actual adventure structure yet (at least written down, mwaa haa), but they're still pretty much good-to-go as characters.
Some random notes, in no particular order:
I'm hewing much closer to the book than the movie (hence the power armor), so any in-setting differences you note may be because the two universes have been blended.
Starship Troopers are true bad-asses, trained and prepared to battle Arachnid warriors by the swarm. Their power armor has jump jets, semi-ablative DR in the double digits, flamers, grenade and rocket launchers, poison gas grenades, even tac-nukes. The (hopefully non-human) body count in this game will likely be very high.
The power armor has semi-ablative DR of 50, and only loses a point of DR for every 10 full points of injury. Combined with their overwhelming firepower, I'm feeling even odds, even in the face of swarms of marauding Warrior Arachnids (and maybe worse). Jump jets in particular give them great mobility in most encounters.
Each character has two sheets, one while wearing armor and one while not. Name, age, gender, etc. are, as usual, left blank for the player to fill in. They all have assault rifles, pistols, and sabers (for when things get really messy), usable both in and out of armor. They are all Privates (plot circumstances), and their squad roles are:

Grenadier, Repair/Melee: Marauder Armor, Triple Thud Grenade Launcher
Heavy Ordnance, Comms/Tech: Marauder Armor, Morita Javelin Rocket Launcher
Neodog Handler, Medic/Sensors: Scout Power Armor (DR 40, better maneuverability), Paired Shredder Rifles, Neodog (an NPC that is basically a trained combat dog's brain transplanted into a hardened robotic casing)
Scout-Sniper, Intel: Scout Power Armor (DR 40, better maneuverability), Sniper Rifle
I think that's about it. By all means, let me know what you think… I've still got time before the game to make changes for the better. Enjoy!
If you enjoyed this post and others like it, might you consider the Game Geekery Patreon?