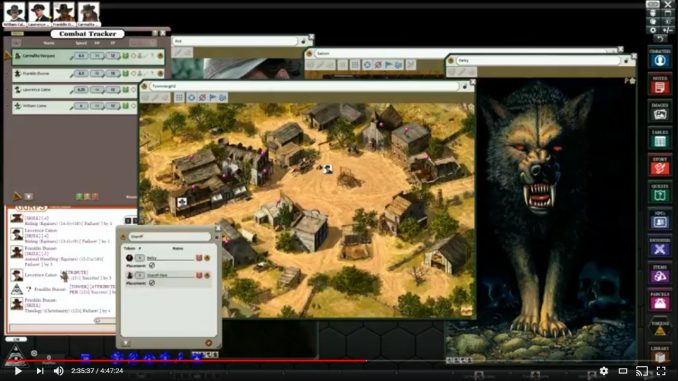 Hello, GURPS fans, and welcome to a rare non-Thursday Game Geekery post!
What could prompt such an unusual turn of events? Well, last night I ran "Hell to Pay," the GURPS Old West/Halloween one-shot I've been posting about recently. And it was…
(drum roll)
… awesome.
Seriously, I had so much fun with these guys! Fantasy Grounds really, really enabled us to connect and enjoy a game together in a way we couldn't otherwise (I'm in L.A., Ronnke player is in Australia, and Tony, Zuljita, and Gilda are in two different states of the Central time zone). There's a video of the complete actual play (4 hours, 45 minutes) for those interested:
And a second video of the same game, but this one from Ronnke's player client so you can see A) the difference between the two, and B) how an experienced player (and author of the current GURPS ruleset for FG) uses the available tools to their fullest:
About the videos:
I did no editing on this at all (the game just ended a few hours ago), I'm afraid you'll have to forebear a bit of dead air and "Uh…"s.
I'd recommend setting the quality to 720p HD, it makes the text less 'fuzzy'.
There are a couple/few curse words in the audio (over a 4+ hour game, that seems pretty good).
Watching back, I quickly noticed that I seem to let go of my push-to-talk button about a half-second too quickly, which frequently clips the audio when I speak. Also, I hate my voice (don't we all?), don't enunciate worth a damn, and for some odd reason I press the push-to-talk key when I chuckle to myself. Habits to work on…
About Fantasy Grounds (and Discord):
The sound quality on Discord was rock solid for the duration, no issues at all. It simply *worked* in the background, didn't have to think about anything. Bravo! Discord recently added video chat as well, which I think I might give a try if I were GMing an ongoing campaign.
What more can I say about Fantasy Grounds? It's been super fun and stable to kind of twiddle around with on my own, seeing how this works, testing that out, but I was a little worried about using it live the first time. While there were definitely some rough spots, overall I consider this game an absolute success.
I was so fixated on the Fantasy Grounds UI, I kind of completely forgot every single GURPS rule as soon as we started. It was a huge help to have Ronnke in the game, not only giving us tips and insight into Fantasy Grounds as a long-time online GM, but also giving advice on GURPS itself.
One of the major pitfalls of online gaming, I've read over and over, seems to be the logistics of getting players to show up ready to game. I was skeptical, but then I had one cancellation 48 hours before game time and one at game time, so there may be some truth to that. I was able to find replacements, but it did delay the start of game quite a bit. If at all possible, I'd recommend having alternates ready to step in (just like a face-to-face convention game).
One of the most awesome bonuses? Once the game wrapped up and we shared some post-adventure discussion, ending the night was as simple as clicking a mouse button. No late night driving, 30-45 minutes in the car, traffic or weather or anything, just — the game's over, click, get up and it's done. Gravy.
About the game:
The most obvious thing is, I way over-prepared this game, even after cutting out some stuff earlier in the week. I prepped about 25 NPCs, but they only encountered maybe half of that in any meaningful way (some they never met at all). Likewise, I had 24 maps ready to go, and only ended up using 4. Important to keep in mind for the future!
In particular, I overestimated how much time the PCs would have to explore the city in just a four-hour game. It was basically, "Shoot-out, the town, the saloon, the sheriff's office, the church, the end." There was an entire encounter for after defeating the sheriff, to confront the demon who was *really* in charge of corrupting the town, but we were already 45 minutes over the agreed-upon end time when the sheriff was vanquished, so he became the Big Bad (and it fit perfectly).
Having said all that, I thought the pacing of the actual game flowed very smoothly. Regardless of "prepping too much," the end result was a solid game that we all enjoyed, so who cares?
In case you couldn't tell… I really had a great time last night, and am excited about the current possibilities of GURPS and Fantasy Grounds (that's not even including anything that might materialize down the road regarding official GURPS support!). Thanks to Tony, Zuljita, Gilda, and Ronnke for playing and helping me explore the wonderful world of online RPGs!
If you enjoyed this post and others like it, might you consider the Game Geekery Patreon?