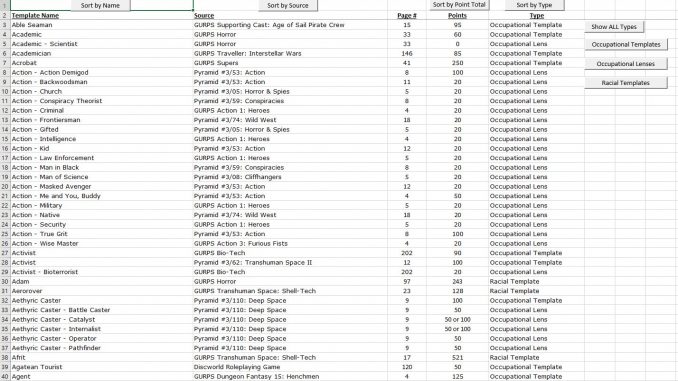 Happy GURPSDay, all!
Just a quick note to let you know I have again updated the Templates Spreadsheet, bringing it current to today, 9/27/2018. All joy-joy feelings to Imion on the forums for creating and maintaining the list!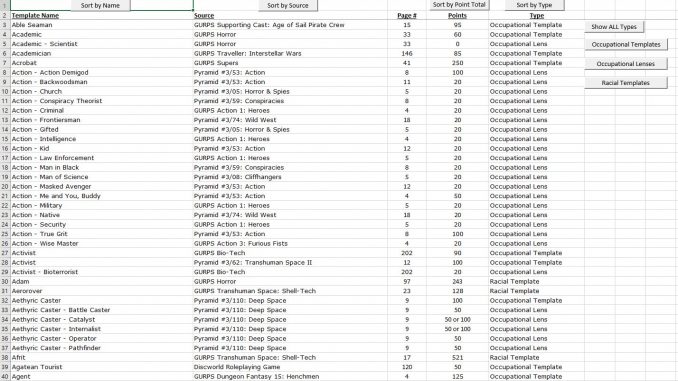 Templates Spreadsheet | Downloads: 5,853 | Size: 105.2 KB
If you're not familiar with the Templates Spreadsheet, it's a list detailing every official GURPS Occupational Template, Occupational Lens, and Racial Template released to date, along with book, page number, and character point cost. Imion updates it frequently as new templates are added. For my own purposes, I undertook the task of reformatting the list to a spreadsheet (Excel, .xlsm), so now one can, say, only show all the Racial Templates, or sort according to the book the templates/lenses are in, or whatever. If you don't want to enable macros, you can do this yourself with various "Sorts" and "Filters," otherwise the embedded buttons will do it for you.
Hope you find it useful! Please let me know if you see any errors.
If you enjoyed this post and others like it, might you consider the Game Geekery Patreon?