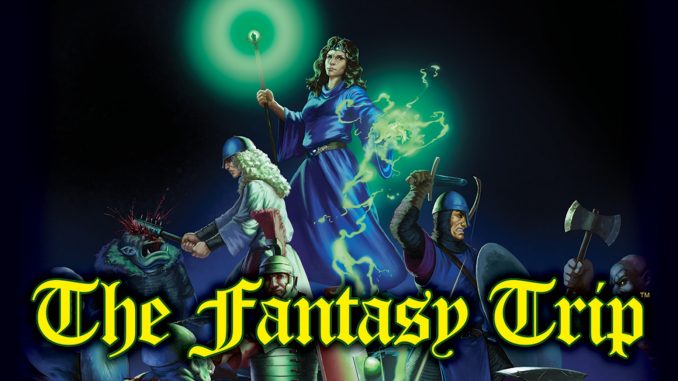 Happy GURPSDay folks!
A few gaming things are going on, so I thought I'd post another scattershot to catch up.
Corrected Version of the Color Coded GURPS GM Screen
The Color Coded GM Screen I posted recently now has a Version 2.0, so you may want to re-download if you have the original version (the correction: under "Melee Attacks," Deceptive Attack is not a valid option for the Move and Attack maneuver unless you are using a Slam). Appreciate the catch, posted by a Game Geekery patron.
There were also some very nice comments from a different patron:
This is absolutely fantastic. Well thought-through design, extremely useful reference material with some unnecessary clutter cut out, high legibility, and designed for customization with form-fillable fields to boot… just excellent. Thank you!
It was a good day! Grab a copy and see what you think.
Amazon Best-Seller: "How to Be a GURPS GM"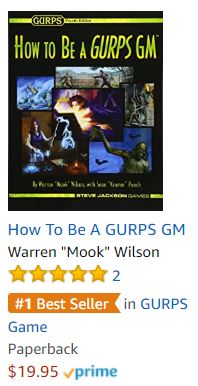 Yesterday was busy and tiring, and I was feeling a bit rundown and gloomy… but then yet another patron really brightened my day by sending this picture.
Yup! For a brief, shining moment, my little contribution to the GURPS catalog was A-#1 (the Duke of New York?) under Amazon's "GURPS Game" category. Today it's back down to #3, behind the Basic Set's "Characters" and "Campaigns," but damn if still being in the top few doesn't feel fantastic. You all are awesome!
Speaking of "How to Be a GURPS GM," you may notice there are only two Amazon reviews. If you enjoyed reading it or found it useful for your games, having a few more reviews there would really help, if you have a little time to kill.
Stephen Colbert and Joe Manganiello Geek Out
In case you missed it, Joe Manganiello (who I know best as the alpha werewolf from "True Blood") was on The Late Show recently, and he and Stephen Colbert geeked out over their mutual love of Dungeons & Dragons. It was pretty great.
What I loved most about their banter, apart from the fact that it felt like genuine passion for gaming, was the fact that Manganiello clearly knows his stuff (and check out his magnificent gaming room!) I love that as tabletop RPGs become more well-known, they continue to pop up in more and more mainstream media (here are a few of my favorites). The world is a very, very different place from when I chucked my first dice.
The Fantasy Trip Kickstarter (and Unofficial Discord Server)
Long ago, Steve Jackson designed one of his first games, an RPG called The Fantasy Trip. When the company he worked for folded, they took the copyright with them… until just recently. After 35 years, he was finally able to get the rights back, and almost immediately launched a super-successful Kickstarter to republish it in a more modern form. Definitely check it out if you're into that OG, old-school gaming vibe!
I'm really looking forward to TFT being rereleased. Though I never played it back in the Before Time, I've always known of it for both its historical significance (the seeds and thought processes that would eventually grow into GURPS are obvious) and its enthusiastic fan base, some of whom are still playing the original game decades later without any new material or official support. My own GURPS games have become increasingly more streamlined as time has passed, so a GURPS ancestor known for its simple and elegant rules (and quick character creation!) definitely intrigues me.
To feed my appetite for all things Fantasy Trip, I also spent the bulk of yesterday morning setting up a Discord server to help build a real-time chat community for fans of the game (similar to a couple of years ago, with the still-going-strong GURPS Discord). I tweaked out the server, the permissions, the bots, channels for various topics, a Google spreadsheet to track GMs and players looking for games, the whole nine yards. Once I posted it on the SJG forums, members started trickling in… and one of the first three or four asked, "So, is this connected to the TFT Discord posted on the forums yesterday?"
Naturally, I headed over to the forums, and sure enough I had missed a post from the day before about a different TFT Discord. Ouch. I posted in both threads (mine, and the one from the day before), and sent the other poster a DM, but so far I've heard nothing back from any of it. So, for now, I've left the server I set up active until I know more about what's happening. But either way, we will have real-time Fantasy Trip chat.
EDIT: I have deactivated the Discord server discussed here in favor of the one created by Tollenkar. Hope to see you there!
That's about it for today. Thanks for checking in, and I hope your upcoming weekend is full of dice, friends, and good times.
If you enjoyed this post and others like it, might you consider the Game Geekery Patreon?