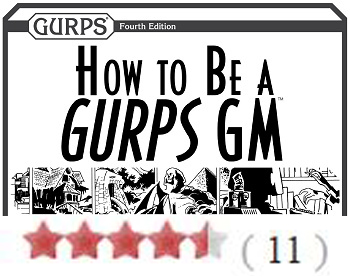 Welcome to the weekly GURPSDay content-a-palooza, GURPSaphiles! Enjoy the mountain of goodness that this week, and every week, brings.
My contribution at Game Geekery this time around is a quick look at the products released for GURPS 4th Edition in the nearly two years since "How to Be a GURPS GM" was published and where they would fit in there.
On pp. 9-10 of "How to Be a GURPS GM," under "Choosing a Genre," I answered the oft-asked question of 'Which books should I use?' for a few of the more common genres. A lot of books have been released since then (25, to be exact):
Fantasy
Dungeon Fantasy 17: Guilds
Dungeon Fantasy 18: Power ItemsDungeon Fantasy Denizens: Barbarians
Dungeon Fantasy Monsters 2: Icky Goo
Dungeon Fantasy Monsters 3: Born of Myth & Magic
Dungeon Fantasy Treasures 1: Glittering Prizes
Dungeon Fantasy Treasures 2: Epic Treasures
Horror
Monster Hunters 5: Applied Xenology
Zombies: Day One
Modern Action
Action 4: Specialists
Science Fiction
Aliens: Sparrials
Transhuman Space: Bioroid Bazaar
Transhuman Space: Bio-Tech 2100
Western
High-Tech: Adventure Guns
And I would add in a new genre…
(Post-)Apocalyptic
After the End 1: Wastelanders
After the End 2: The New World
Disasters: Meltdown and Fallout
In addition to the genre material, there were books released related to character creation ("Power-Ups 7: Wildcard Skills," which I would also mention on p. 13, and "Power-Ups 8: Limitations"), magic and powers ("Magic: Death Spells," "Thaumatology: Sorcery," "Powers: Enhanced Senses," "Powers: The Weird"), and organizations ("Boardroom and Curia").
The final release, the odd man out, was "Social Engineering: Back to School," a genre book for school-based games and a rulebook focusing on learning and teaching.
One final thing struck me as I was skimming through "How to Be a GURPS GM." On pp. 10-11, under "Choosing a Style," I talk about games that are "Realistic or Cinematic," and "Rules-Light or Rules-Heavy." Today I would add a third metric of "Narrative or Simulationist" (though I'm not thrilled with the names), and talk about some of the ideas I discussed in the "GURPS and Fate" series about tweaking GURPS to be even more story-centric.
Overall, I think it has held up really well… are there any things from the last couple of years in GURPS you think would affect "How to Be a GURPS GM" if it were released today?
If you enjoyed this post and others like it, might you consider the Game Geekery Patreon?