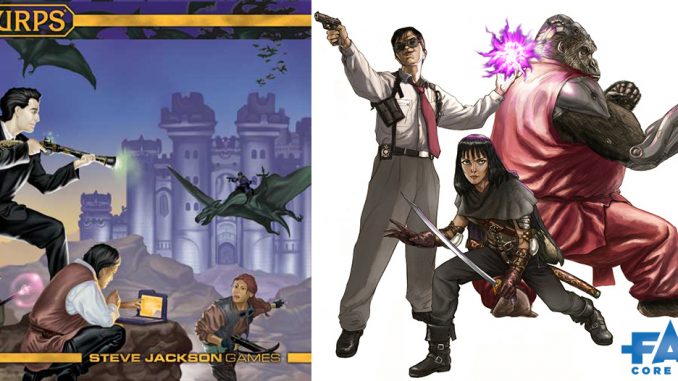 Over the past few years, I have had the great fortune to play in many, many convention games of Fate, run by some of the best GMs involved with it. It is, in a nutshell, a fantastic RPG. I often note that, on the Infinite World where GURPS doesn't exist, I am surely a Fate gamer.
Most of my admiration is for the philosophy behind the rules, things like "make everyone around you look awesome," the ubiquitous understanding that every part of the game can be collaborative and creative, and the firm belief that every aspect of creating and playing the game be done in the service of fun. These are things I have fully embraced, and have tried to bring into my GURPS campaigns.
As for the mechanics of Fate, they are fast, streamlined, even ground-breaking, especially things like the "Fate point economy," which empowers players to help shape the narrative of the story as it unfolds around the table. For the last year or two I have been using a GURPS version of "Story Points," with excellent results. But, overall, the Fate mechanics are not really my cup of tea. I much prefer the more traditional rules approach of GURPS.
These two systems have very similar goals, they just take different paths to get there.
There are a few ways gamers talk about RPGs and their approaches. Fate might be called "narrativist," "a story game," or "indie"; by comparison, GURPS would be "simulationist," "old school," or "traditional." In my own muddled mind, I categorize games by a rigorously-defined quality called "fuzziness." Not fuzzy as in soft and furry, but fuzzy as in "that military game was in sharp focus, but the bunny game was a lot fuzzier."
It's all about the details, I suppose. Some games cry out for exacting detail, like a special forces game where every round of ammunition is accounted for, and things like infected wounds or fatigue could be of critical importance. A "Bunnies & Burrows" game about PC bunnies probably wants the lens set to soft focus, so we can just enjoy a good romp through the woods with some heroic talking rabbits and not worry about getting fatigued or being hungry.
I am finding that ways to focus the GURPS rules for a "softer" kind of game, similar to the Fate games I've played in, are of great interest to me lately. If you find yourself in a similar position, below are some of the resources I've used to make my games a little more fuzzy and "Fate-like" (or Apocalypse World-like, or Sprawl-like, or…).
"How to Be a GURPS GM" obviously touches on some of this, on how to shape the rules to get the kind of story you want, but specific to this "Fate-style":
Though I was a little late to the party on this one, it has quickly become one of my favorite books. It's explicit goal is exactly the kinds of things I've mentioned — ways to customize and tweak the rules so the game flows like an action movie. The whole book is great, but of particular note to this topic (and applicable to almost all genres, not just modern action):
the Basic Abstract Difficulty (BAD) system, for collecting all skill modifiers under a single 'umbrella' rather than calculating them individually. (pp. 4-5)
the list of Go-To Skills and the chapter on Tricks of the Trade, packed with advice for the easiest ways to handle common tasks and situations a group of PCs might encounter. (pp. 10-30)
the Range Band Table, which reduces the multiple discrete entries of the default Size and Speed/Range table down to five (Close, Short, Medium, Long, Extreme). I pretty much use this for every game I run now! (p. 31)
the chapter on Chases, providing a new, streamlined system for tracking and resolving character chases. (pp. 31-35)
the discussions of ways to speed up Combat and Healing. (pp. 36-42)
the list of "Ten Rules to Use Sparingly," to avoid having the game slow down. (p. 44)
I can't believe it took me so long to get around to reading this book, because it really is a superb foundation for, "Hey, this is the way GURPS usually works… but if you want this kind of game, let me show you how to do it." It's been out since the end of 2008… had I read it sooner, my migration to a quicker, more story-oriented game might have begun much earlier!
There are three lines in particular, I'd like to mention, that exist to show GURPS GMs how to best set the dials of the Basic Set for a very specific type of game: Action (cinematic action movies), Monster Hunters (similar to Action, but with supernatural enemies and creatures), and Dungeon Fantasy (old-school dungeon crawls). If these are the games you want to run in GURPS, the tweaking has already been done for you!
The other three books I want to recommend were published much more recently, one in 2012 and two in 2014.
This PDF was released in 2012 just a month or two after I started using "Story Points" for our games, so the timing was perfect. The entire 25 pages are devoted to discussing various ways of using Character Points to let characters do things like avoid damage, modify or re-roll dice rolls, affect the environment, etc. Most of these options existed from the dawn of the Basic Set, but here they are brought to the fore. This would be the book for GMs looking for something like the Fate Points economy in a GURPS game.
Templates have always been a great way to help players during character creation — they basically let the GM create characters that show exactly what kinds of skills and other traits will be useful in the game world, and act as a guide for players to ensure that they don't forget or overlook something that would be important for their characters, and this book really delves into the whole process of making and using templates. But it also has an excellent chapter entitled "Niches" which discusses at length the roles that each character might play in the story and how to include challenges and encounters specifically for them that I think is worth the price alone.
This is the book that actually prompted me to finally write this post. All of the pre-gens I've created for convention games over the last few years have included at least one super-broad wildcard skill, something like "Soldier!," "Bunny!," or "Pirate!," so I find this book extremely useful. It is, naturally, devoted to examining wildcard skills (as first explained on p. 175 of Characters): what they are, how to create them, and how to use them. It also includes about 50 examples!
For GMs like myself that love GURPS, and want to use it for games that flow more like Fate and other "fuzzy" RPGs (as well as all the other games I run, too), the tools are there and the customizing has already been done.
Are there other GURPS books or rules that you've found helpful in this regard? (I'm sure I've missed some great stuff in older Pyramid magazines, for example.) Hit me!