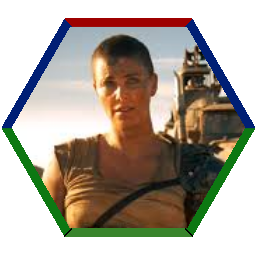 I've been fiddling a bit with Roll20 as well as Fantasy Grounds lately, and one of the things I miss in Roll20 is the ability to have a facing arrow that rotates independently of a token. I still don't believe there's a way to do that in Roll20, but I found the next best thing is using a custom hex background in the amazing Token Stamp tool (seriously, if you've never tried this tool check it out, makes it soooo easy to make quick custom tokens).
Here is what the hex token looks like — three green side for Front, two blue sides for Sides, and a red side for the Rear — as well as an example token.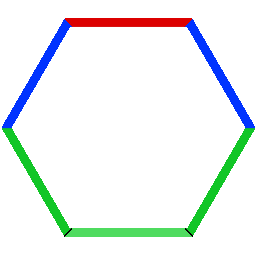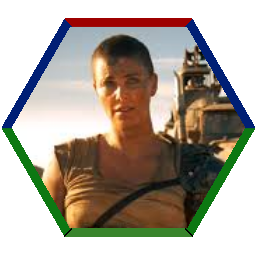 Download: Custom Token Hex | Downloads: 747 | Size: 5.2 KB
To use this hex background in the Token Stamp tool:
Download the file "GURPS-token-hex.png" by clicking "Custom Token Hex" above (and note where it downloads on your computer)
Find a picture you want to use for the token, either on your computer or online
Go to the Token Stamp website at http://rolladvantage.com/tokenstamp/
In the upper left corner, click on the circle and change the default shape to the hex (middle of the second row), then click the hex again in the upper left corner to close that menu (and see the full workspace)
On the lower right, click "Set Custom Border," and in the pop-up that opens navigate to the "GURPS-token-hex.png" file you downloaded in step 1.
Drag the image you want to use from your computer or a website onto the workspace where it says "Drop image here to start," and adjust its position until you are happy with the icon preview in the upper right corner
Click the "Download" link to download your new token!
Happy token making — let me know what you think and what you're using to make your VTT tokens!
If you enjoyed this post and others like it, might you consider the Game Geekery Patreon?