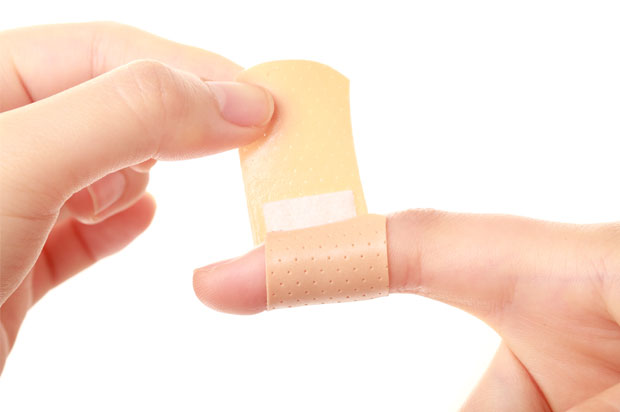 Thursday is GURPS Day, and once again we will be heaping abuse upon our basic example character, Rex, in pursuit of creamy good GURPS knowledge.
Now that we've touched on how combat works a bit, today we'll see how a character can recover from those injuries sustained when Bad Things™ happen. GURPS Lite (pp. 30-31) has all the rules we need for recovery from…
Fatigue (FP) Loss
This is usually the least serious condition from which to recover. All kinds of things can cause you to lose energy and get tired — being in a fight, running for your life, carrying your hefty buddy's torso to the shaman's hut outside of town — and usually replenishing your Fatigue Points is a simple matter of resting quietly, at the rate of 1 FP every 10 minutes (p. 31).
For example, after hiking for three hours under a hot sun to return home from a distant settlement, Rex is weary — his FP of 10 are down to 7. He plops down in a comfy rocking chair on his porch and, after a half hour of relaxing, is as good as new (30 minutes of rest restores 3 FP; if he ate while taking it easy, Rex could have got an extra FP back, and would only have had to rest for 20 minutes).
Stunning
Being stunned is usually the result of failing either a Knockdown and Stunning roll (physical stun) or a Fright Check (mental stun). While stunned, a character is forced to choose the Do Nothing maneuver each turn until recovered (you can still defend yourself, but at -4 to all active defenses).
For example, Rex fails his HT roll for knockdown and stunning after being shot in the gut by a bandit's .45. He falls prone, and must choose the Do Nothing maneuver (and defend himself at -4) on his next turn, but then rolls against his HT of 10 to recover. He rolls a 14 — still stunned! At the end of that turn (again, choosing to Do Nothing), he gets another HT check, and this time succeeds with a roll of 10. He can act normally when his next turn starts.
Unconsciousness
There are a great many things that can leave an adventurer unconscious, and the difficulty of recovery depends on how many Hit Points (HP) were lost. For example…
After taking a major wound from an arrow to the chest, Rex critically fails his "knockdown and stunning" HT roll and falls unconscious with 4 HP remaining. Assuming no enemies choose to finish him off, he will automatically wake up after 15 minutes (and can regain lost HP normally, as below).
After a major skirmish against an Apache war band, Rex is left for dead with -3 HP. After an hour (of game time — not real time, thankfully!), he gets a roll against his HT of 10 to wake up, but fails with a 12. Two more hours pass, and he fails twice more, but finally he succeeds on his fourth check with a roll of 8. After those four hours, he awakens (though, at -3 HP, he's in pretty rough shape).
After a gunfight against an outlaw gang, Rex is again left for dead, this time with -11 HP (ouch!). After 12 hours, he makes a roll against his HT of 10 to see if he will come to on his own, but fails with a roll of 13. Rex will not wake up on his own. The best he can do now is keep rolling every 12 hours until someone finds him and provides medical attention — but if at any point he fails a roll, he will quietly shuffle off this mortal coil (you know, buy the farm, take the dirt nap, go toes up).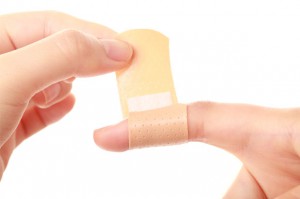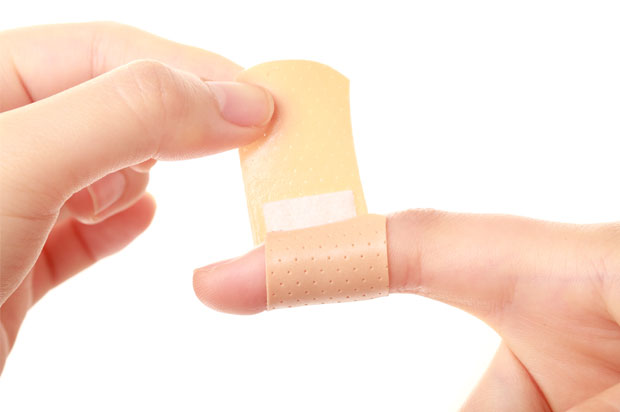 Hit Point (HP) Loss
Finally, there is recovering from actual injuries, i.e., regaining lost HP, as outlined on p. 30.
For example, Rex and some other ranch hands defend their cattle from a group of rustlers. They manage to drive them off, but Rex suffers a 5-point gunshot to the shoulder, reducing his HP from 11 to 6.
Once out of combat, one of the other cowboys, Gus, spends a minute bandaging Rex's shoulder. This requires no skill roll and gives Rex 1 HP back, bringing him up to 7. Gus then spends another 20 minutes (per table on p. 31, at TL 5) using his First Aid skill of 12.
He succeeds with a roll of 10, then rolls a 5 on a single die. The "HP Restored" at TL 5 is "1d-2," so that restores 3 HP to Rex. Notice, though, that those 3 points include the 1 point already given for bandaging, so Rex gets the difference (2 more points), bringing his HP from 7 to 9. (A lot of folks don't remember this — impress your GURPS friends at parties by pointing it out!)
Assuming Rex takes it easy for a few days, he can make a HT check at the end of each day of rest to restore 1 more HP until he is back to full.
And that's it! These are the ways you can get your character back into fighting shape after GURPS leaves you broken and in a heap. In settings where things like magic, potions, and active gods exist, a character can bounce back from even severe trauma almost instantly. But barring that, the default recovery rules model a much more mundane and realistic manner of healing.
This can be jarring for players not used to needing a week or two of bed rest to recover from the wounds of a particularly brutal battle, so the GM can, of course, tweak things to get results that better match the group (maybe First Aid skill checks only take one minute and restore 2d, and a day's rest restores a full 1d, that sort of thing).
Next week's post will be the last of the basic examples, a wrap-up summary of everything covered so far before we move on to the intermediate posts and the GURPS Basic Set instead of GURPS Lite. See you then! Please leave a comment below, or let me know how you think things are going.