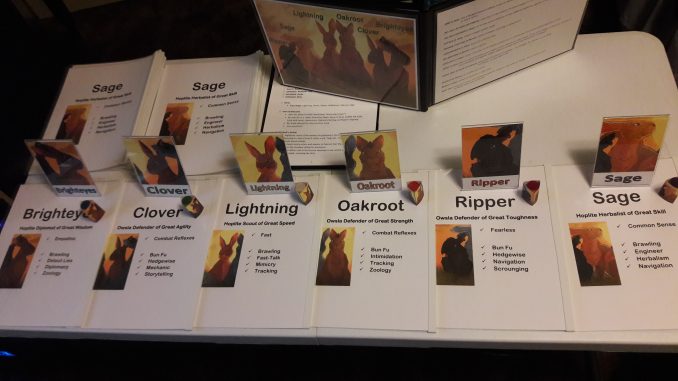 Happy GURPSDay, all! The glorious weekly floodgates are again wide open — slake your GURPS thirst.
Short post today as I have a lot of little things to finish up before Orccon 2017 this weekend. Hope to see you there! Say howdy if you're around.
Game prep for "Hare Today, Gone Tomorrow" is finally done, and I'm very happy with the way it turned out. Fingers crossed everything goes smoothly at the table and everyone has a good time.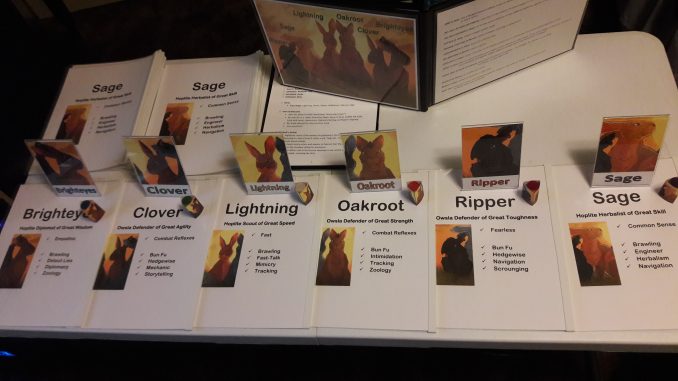 If you'd like to download the adventure packet for yourself, it's all right here:
Hare Today, Gone Tomorrow | Downloads: 1,594 | Size: 1.7 MB
The 30-page PDF contains:
pp. 1-6        The Adventure (Intro, seven scenes, herbs list, enemy stats)
pp. 7-18      Character Sheets (six pre-generated PCs)
p. 19            GM Control Sheet
p. 20            PC Herbs List
p. 21            Simplified GURPS Maneuvers Handout
pp. 22-25   Simplified GURPS GM Screen
pp. 26-30   Graphic materials (ID signs, tri-fold figures)
Let me know how it goes if you run this somewhere, I'd love to hear about it. Hope your gaming weekend is all kinds of awesome!
If you enjoyed this post and others like it, might you consider the Game Geekery Patreon?