From the "MookUI_readme.txt":
This is my final version of the AddOn compilation "MookUI v.3", at least for a while.
As always, thanks to all the hard working AddOn authors out there who have created these gems – your work is very much appreciated!
The files in the download are identical to those I have on my home machine – all of these AddOns work together for me, chances are very good they will also work for you. If you do have any problems I'll try to help as best I can (I can always be reached through the forums or blog at: www.themook.net), but I don't have any plans to maintain this compilation indefinitely. Now that all of the main AddOn sites are showing sparks of life once more, there is less of a need for me to keep the compilation available for download.
I still think it makes a great "starter kit" of Patch-compliant AddOns though – so please enjoy!
To install these AddOns, unzip the file "MookUI3_12-09-2006.zip" to your "C:\Games\World of Warcraft\Interface\AddOns" folder (or wherever your actual AddOns folder happens to be).
No Target: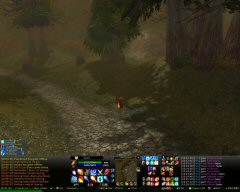 With Target: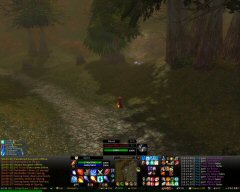 In Combat (showing Combat Display, Target, Target of Target, and Target of Target's Target):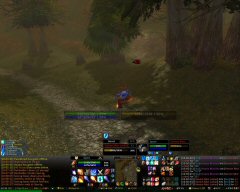 With Bags and Bank open: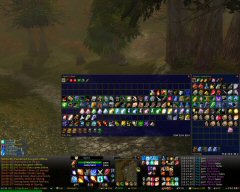 With Chat Windows Open (Party/Raid and General/Trade chat are usually closed) ::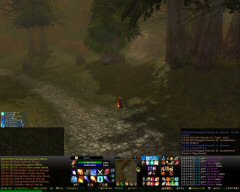 You can download a .zip file containing all the AddOns I'm using here:
http://www.themook.net/downloads/index.php?act=view&id=45
They all seem to be working together well. The AddOns included are:
!!!Libs
!BugGrabber
!OmniCC
Ace2
AlphaMap
AtlasLoot
bc_TrackingMenu
Bongos
Bongos_ActionBar
Bongos_MapBar
Bongos_Options
Bongos_RollBar
Bongos_Stats
Bongos_XP
BugSack
ClearFont
CT_BuffMod
CT_Core
CT_MailMod
CT_RABossMods
CT_RaidAssist
DeuceCommander
eCastingBar
EQL3
EquipCompare
EzDismount
FlightMap
FreeRefills
FruityLoots
FuBar
FuBar_BagFu
FuBar_ClockFu
FuBar_DurabilityFu
FuBar_ExperienceFu
FuBar_FriendsFu
FuBar_GuildFu
FuBar_HonorFu
FuBar_MCPFu
FuBar_MicroMenuFu
FuBar_MoneyFu
FuBar_PerformanceFu
FuBar_SWStats2Fu
FuBar_tcgTradeskills
FuBar_TopScoreFu
FuBar_WhisperFu
HitsMode
ItemRack
KillMore
Ludwig
Ludwig_SellValue
MCP
Mendeleev
MobInfo2
MookUI3_readme.txt
MozzFullWorldMap
Perl_CombatDisplay
Perl_Config
Perl_Config_Options
Perl_Focus
Perl_Party
Perl_Player
Perl_Player_Pet
Perl_Target
Perl_Target_Target
Prat
Prat_FuBar2
sct
sctd
sctd_options
sct_options
Skinner
Squeenix
SuperInspect
SuperInspect_UI
SW_Stats
TalentReminder
TinyPad
TinyTip
TinyTipExtras
TinyTipOptions
tradeDispenser
TTSpellTimer
vBagnon
vBagnon_Forever
vBagnon_Options